PMI Delaware Valley Chapter
Exam Study Groups
Strength in Numbers
Prep Course Complete? Now, huddle up!
Preparation is critical to succeed in any certification exam, such as the PMP or CAPM. By joining a study group with the PMI Delaware Valley Chapter, you work with a mentor and other aspiring certification holders. You improve your understanding of the material and make complex concepts more straightforward. Plus, you'll enjoy the camaraderie of working as a team.
Our study group mentors are exceptional in team dynamics, experts in the course material, and knowledgeable in the exam's intricacies. They will guide you through the study process, recommend the necessary materials, and explain how the exam is conducted. With the support of your mentor and fellow study group members, you will have spirited discussions and mutual encouragement that will make a significant difference in your exam preparation journey.
Study Group Schedule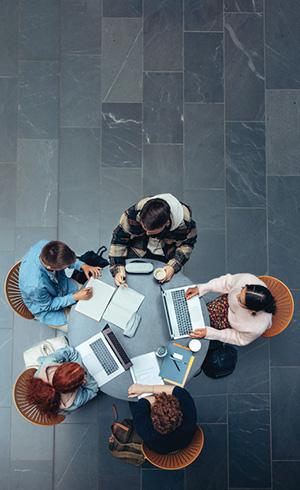 Study Groups begin meeting following the completion of the prep courses. Groups consisting of course participants and community members preparing for the exam are welcome to register.
Our Winter sessions start in 2024. 
Join our Winter 2024 group starting Monday & Wednesday from 6:30 PM - 8:00 PM EST on February 26, 28, & March 4, 6, 11, 13, 18, 20, 25 and 27.
Join our Winter 2024 group starting Tuesday & Thursday from 6:30 PM - 8:00 PM EST on April 9, 11, 16, 18, 23, 25, 30, and May 2, 7, & 9.
Requirements
A member in good standing of the PMI Delaware Valley Chapter

or

registered for an Exam Prep Class.
Commit to the study schedule of the group
Contribute to the learning

Schedule your exam within 30 days of the conclusion of the group study.
How to join a group
Registration for study groups will be posted along with Exam Prep class registration information. For more information on PMI study groups, please contact Niki Weiss at nweiss@pmi-dvc.org.
Special Notes
PMI Exam Prep Study Groups are designed for PMI certification candidates who have already fulfilled their desired PMI credential's educational and experience qualifications. Study Group hours do not count towards the PMP education requirement. To learn more about PMI credentialing standards, visit the Project Management Institute.
Stepping into the study group filled me with nervous anticipation, considering my ten-year hiatus from school and my historical struggles with tests. However, the decision to become a part of this local chapter, has proven to be immensely rewarding. In this group, I've had the privilege of connecting with numerous individuals who share similar experiences to mine. The instructors, incredibly knowledgeable in their domain, have provided unwavering support and motivation. What I've found in PMI-DVC is the missing link I never realized was absent from my life, and I'm genuinely grateful to be a member. To those who might be undecided, I wholeheartedly encourage you to take that leap of faith. Rest assured, the experience will exceed your expectations.
Heather Jennings, PMP
Participated in Study Group Spring 2020
Joining the PMI-DVC study group and taking an exam prep course were the first things I did as a chapter member. I had no clue where to start with studying for my PMP and was worried that I would not know how to effectively study as I was juggling a demanding job and planning for my wedding. I never realized how many people – from the instructors to the study group members to the board members – were willing to help throughout the entire process of preparing. Not only did this enable me to pass my exam on my first attempt, but it made me excited to get more involved with the chapter. Thank you PMI-DVC for playing a critical part in my career advancement and giving me the opportunity to connect with so many great individuals!
Andres Alvarado, PMP, CSM
Participated in Study Group in 2022
The PMI Delaware Valley Chapter (PMI-DVC) offered PMP Study Group Program was a crucial factor in my success in attaining the PMP certification in December 2022. The content, pedagogical approach, instructors, and peer student engagement were structured to provide vital knowledge, coaching, and support throughout the exam preparations. At the conclusion of the study group program, I felt well-prepared and ready to complete the PMP exam. Beyond the exam preparation, the content has continued to provide great value in my day-to-day project management application. I highly recommend aspiring PMP certification candidates to consider the PMI-DVC Study Group sessions.
Charles Wachira, PMP
Senior Director, Teaching & Learning, Johns Hopkins Carey Business School
The local chapter PMP study group gave me a timeline, resources, and a support group to cross the finish line to pass the PMP exam. I planned to take the PMP exam for many years. Due to competing priorities and life's curveballs I kept finding an excuse to put the exam on the backburner. Once committed to the PMP study group I had the drive to schedule the exam and stick to a study plan. The presenters reviewed the breadth of material covered on the exam and provided a sounding board for questions I couldn't find anywhere else. The group was an excellent supplement to my studies. Without the support, my road to PMP would have been much longer. I contribute the tips and resources provided by the study group as a key reason I passed the PMP exam on my first attempt.
Allison Haug, PMP, MS
PMP Study Group 2023