PMI Delaware Valley Chapter
Exam Study Groups
Strength in Numbers
Prep Course Complete? Now huddle up!
Be it the PMP or CAPM certification exam, preparation is paramount. You are exploring all avenues of study to ensure you crush it on the first go-around. As such, joining a PMI Delaware Valley Chapter study group is a shrewd move. Working with a Mentor and your fellow certification aspirants, you'll tackle the material together. The content sticks better. Complex concepts take on greater clarity. And you will enjoy the comradery inherent to the team experience.
Our study group Mentors are crackerjacks at team dynamics, experts in the material, and wise to the twists and turns of these exams. They will coach you on how to study, what materials to use, and how the test is administered. Between the Mentor and your study group peers, you'll find the mutual support and lively discussions a difference-maker in your exam preparation journey.
Typical Study Group Schedule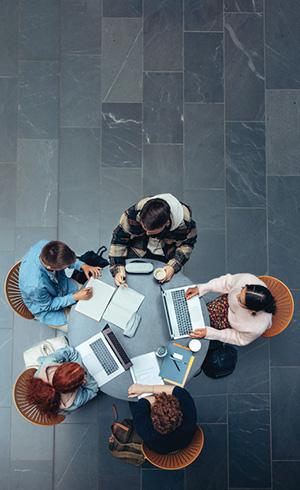 Study Groups typically follow on the heels of prep course completion. Most groups form-up from course participants and meet once a week over a month or two leading up to the exam.
Requirements
A member, in good standing, of the PMI Delaware Valley Chapter

or

registered for an Exam Prep Class
Commit to the study schedule of the group
Contribute to the learning

Schedule your exam within 30 days of the conclusion of group study.
How to join a group
Registration for study groups will be posted along with Exam Prep class registration information. For more information on PMI study groups, please contact Niki Weiss nweiss@pmi-dvc.org.
Special Notes
PMI Exam Prep Study Groups are designed for PMI certification candidates who have already fulfilled the educational and experience qualifications of their desired PMI credential. Study Group hours do not count towards the PMP education requirement. To learn more about PMI credentialing standards, visit the Project Management Institute.
Study Group Testimonial
The study group helped me focus my attention on the format of the examination and gave me a roadmap to follow while studying. It was great having so much support, people to bounce ideas off of and seek clarification with. Having a small community of experienced project managers all working toward a common goal and with the guidance of mentors…it made all the difference in my preparation.
Dr. Sherrell D. Mickens, PMP since 2020
Springfield, Pennsylvania