Maintain your Certification
PMI Delaware Valley Chapter
Professional Development & PDUs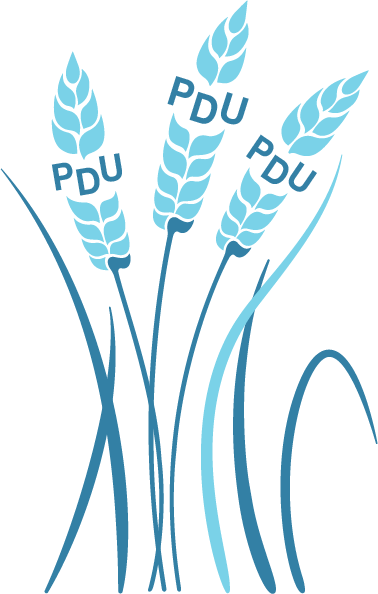 You've earned it. Now it's time to maintain it through professional development, service, and certification renewal. PMI certifications are predicated on the idea that our advanced skillsets require nurturing and continuous development. In doing so, we experience professional advancement and enjoy the benefits of an ever-expanding network of peers.
The time you dedicate to professional development and service translates into PDUs earned. PDUs mean certification renewal.
What are PDUs?
A unit of measure: 1 PDU = 1 hour. Also known as Professional Development Units. But we prefer three syllables to ten. PDU hours can also be subdivided into increment units when applicable:  0.25 PDUs = 15 minutes; 0.30 PDUs = 30 minutes, etc
---
How Can I Earn PDUs? How Long do I Have?
3-year Cycles
PMP / PgMP / PfMP / PMI-PBA / CAPM / PMI-ACP / PMI-RMP / PMI-SP
So many ways—3 years to do it. PDUs are not hard to come by. And 36 months is ample time to learn and contribute your way to your certification renewal target. But PDU targets are not an all-eggs/one-basket proposition. There are clearly defined categories of learning and contributing for these certifications.
Some categories are mandatory (i.e., you require a minimum number of PDUs). Other categories are optional and/or are capped with a maximum limit. Understanding the categories and their sub-sections is step one.
Education PDUs
Has a minimum PDU target (based on Cert. type)
Learning means professional growth. Education is divided into three sub-sections. Each has a PDU minimum. Once minimums are met, you will have a few more Education PDUs left to earn; you choose the sub-section for those.
Ways of Working: Mastering different ways of getting work done; the right technique at the right time.
Power Skills: Interpersonal skills including collaborative leadership, communication, an innovative mind-set, for-purpose orientation, and empathy.
Business Acumen: Cultivate effective decision-making and align projects with broader organizational strategy and global trends.
Giving Back to the Profession PDUs
Has a minimum PDU target (based on Cert. type)
This category—also with three sub-sections—is rewarding in so many ways. But category and sub-sections have earnings limitations (i.e., you can only apply so many PDUs to your renewal). The Giving Back sub-sections are as follows:
Volunteer: For the Chapter, for PMI, etc. PMI parameters apply.
Create knowledge: write articles, shoot videos, teach..within parameters.
Work as a practitioner: PDUs for doing your job, providing it is project management related.
1-year Cycles
DASM / DASSM / DAVSC / DAC
These four certifications (all Disciplined Agile) have 1-year cycles and comparatively smaller PDU requirements (7). Twelve months to earn 7 hours of Agile-related PDUs is more than manageable. PDUs for these certifications are not sub-divided by category or sub-section. If the hours are Agile-learning related, you are on track for renewal.
---
How Many PDUs Must I Earn?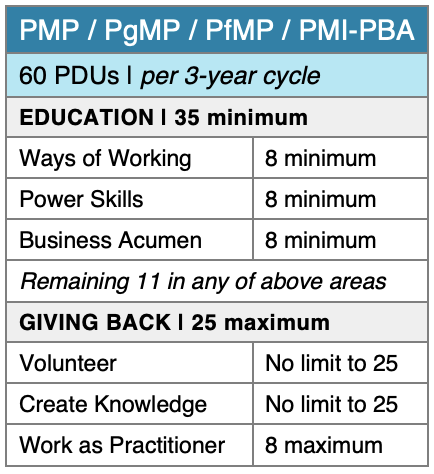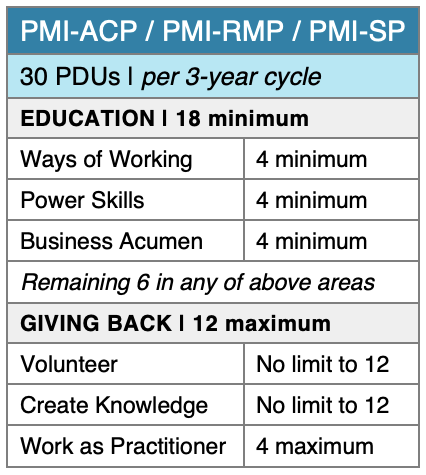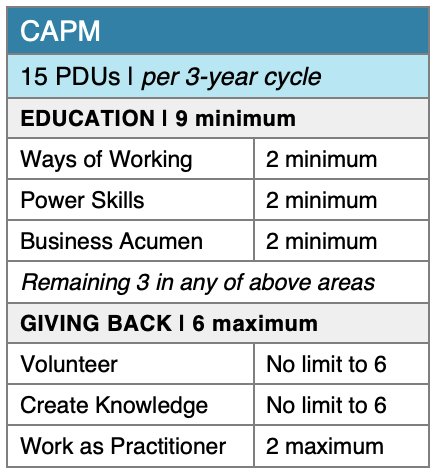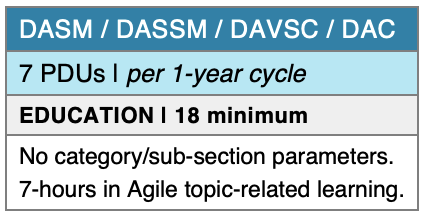 To learn more about certification PDU requirements, review the PMI CCR Handbook.
---
Best Sources of PDU Opportunities?
  PMI Delaware Valley Chapter
Your local harbor for programming and networking. And your deepest source of Giving Back-category PDU opportunities.
   The Project Management Institute
The mothership, offering courses, training and webinars aplenty. Browse their Learning & Events section for more information. VISIT PMI >>
   Other PMI Chapters
Great programming is available through our sibling-chapters. Check their Events menus for opportunities. Find a list of North American PMI chapters here: PMI CHAPTERS >>

   Projectmanagement.com
Live and on-demand webinars, in addition to industry forums and a trove of tools and templates. Free with PMI membership. Log in with your PMI username/password. VISIT PROJECTMANAGEMENT.COM >>
---
PDU Opportunities Explained
Now that you know where to go for PDU opportunities, the following are the nuts-and-bolts of the specific opportunities for learning, growing, giving back and earning PDUs towards your certification renewal.
Education PDUs
Courses/Training | 1-HOUR OF INSTRUCTION = 1 PDU
Instructor-led courses held in-person or online. Both PMI and the Chapter offer a variety of options throughout the year.
Learn more: CHAPTER EVENTS >>  |  EXAM PREP/TRAINING >>  |  PMI LEARNING >>
Global Events | TYPICALLY 7-50+ PDUs
Meetings/events—educational sessions, keynote and featured speakers—that bring together the global community.
Learn more: PMI EVENTS >>
Local Meetings/Events | TYPICALLY 1-2 PDUs
Local activities/events, related to the profession, hosted by Delaware Valley Chapter and other Chapters.
Learn more: CHAPTER EVENTS >>  |  PMI CHAPTERS >>
Online or Digital Media | 1-HOUR OF LEARNING = 1 PDU
Self-paced, on-demand learning conducted online and through other digital media.
Learn more: PMI LEARNING >>  |  PMI PODCASTS >>
Reading | 1-HOUR OF LEARNING = 1 PDU
Self-directed reading relevant to your certification.
Informal Learning | 1-HOUR OF LEARNING = 1 PDU
Engaging in structured profession discussions, e.g., mentoring and lunch and learn sessions.
---
Giving Back to the Profession PDUs
Create Content | 1-HOUR OF CONTENT CREATION = 1 PDU
Pen an article. Lead a webinar. Shoot a video. All contribute to the development of your fellow members.
Reach out to the CHAPTER MARKETING TEAM to contribute.

Share Knowledge | 1-HOUR OF INSTRUCTION = 1 PDU
Have experience and knowledge that would benefit others? We offer mentoring and teaching opportunities that will ratchet-up those PDUs.
Learn more: BECOME A MENTOR >>  |  ENLIST AS AN INSTRUCTOR >>

Give a Presentation | 1-HOUR OF PRESENTING = 1 PDU
So many speaking opportunities. Share the good word with your peers and earn some PDUs.
Learn more: SPEAKER OPPORTUNITIES >>

Volunteer | 1-HOUR OF VOLUNTEERING = 1 PDU
From Chapter leadership to operations; events planning to marketing; mentoring to academic outreach, we've got your ticket. PDUs and karma.
Learn more: CHAPTER VOLUNTEER TEAM >>

Work as a Practitioner | MAXIMUM PDU PARAMETERS APPLY
Earning PDUs while you work sound appealing? You can bank a block of PDUs simply by doing your job.