ProjectBites LIVE! (Virtual)
ProjectBites LIVE! (Virtual)
Tuesday, June 27, 2023
7:00 pm – 8:00 pm EST

FREE to all.
https://projectbites.com/ projectbites-live-June-27-2023/
Managing Difficult Conversations
Nan Gesche 
The Dark Arts of Project Leadership: Influence and Politics
Joe Perzel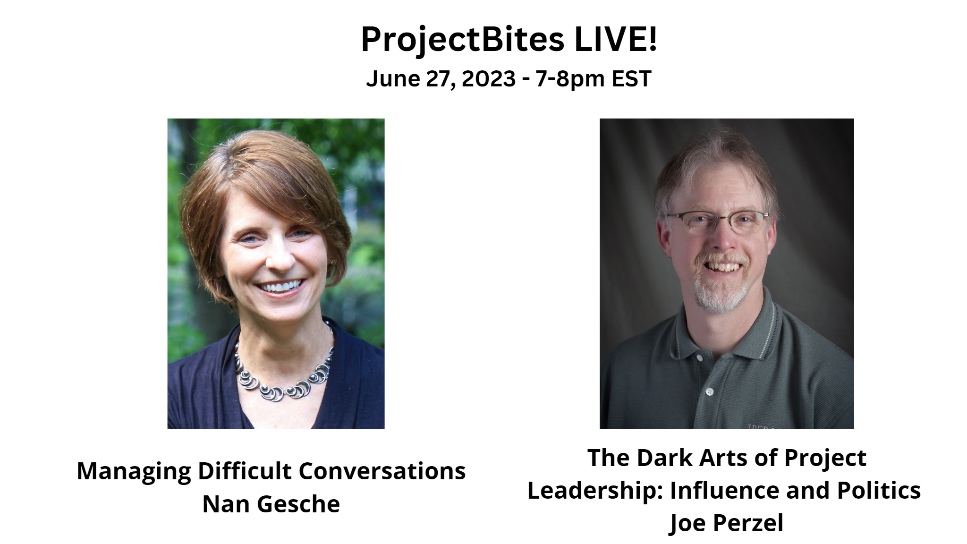 Managing Difficult Conversations
Nan Gesche  
Have you ever hesitated when faced with a disagreement or the need to confront someone about an uncomfortable situation? Whether it's at home or work, most of us want to avoid difficult conversations for fear of how people will react.


Since ignoring disagreements doesn't make them go away, being able to deal with difficult conversations effectively is an essential skill in maintaining good relationships and succeeding in life. We want to help remove the fear factor from difficult conversations by sharing tools to help turn that tough talk into a constructive dialogue to keep your relationships intact and your career on track.
The Dark Arts of Project Leadership: Influence and Politics
Joe Perzel

This presentation will start with the Top 10 Keys to Success which include Communicate, Communicate, Communicate; Managing Change and Expectations; Pace, Perfection and Price – pick 3.  We then discuss how to become a Master Magician covering topics such as Winning at Politics; Controlling outcomes through Influence; Communicating & Motivating and Marketing your Project.
*************
Biographies
Nan Gesche
Educator, Speaker, & Coach Nan is an energetic speaker who uses experience, insight, and some sturdy research, all sprinkled with a little humor, to get people to see themselves and the world differently. Her passion is "Helping people play well together!" Nan provides audiences a chance to ponder and practices different ways of thinking and acting around change, conflict, decision making, communication, and leadership all in hopes of providing more positive outcomes. 
Nan has been engaging large and small audiences nationally. She is a catalyst who makes change doable! Her 20 plus years of independent and corporate experience allow her to stretch people's thinking to help them focus on the realities of life and business. She has worked with diverse organizations on projects such as change management, resiliency building, conflict management, as well as working with individuals on conflict management issues. Nan's corporate experience includes Change Enablement Manager, Director of Training & Development, Organizational Effectiveness Facilitator, and National Bank Examiner. 
Joe Perzel
President, JPerzel & Assoc 
Joe Perzel has been leading projects of all sizes and managing staffs since 1982 in both a corporate and vendor capacity.  He has a background in multiple industries such as healthcare, insurance, finance, government, manufacturing, non-profit and education. Presently Joe is Partner JPerzel Inc. as well as Program Manager at Surescripts LLC. Previously he has held leadership positions at Cargill, Thomson Reuters, MN Workers Compensation Bureau and International Multifoods.
Joe has been speaking since 2002 on topics ranging from project leadership, management, strategy, negotiations/sales. He has presented keynotes, chapter meetings and workshops internationally to multiple corporate, government and non-profit organizations, International Institute of Business Analysts (IIBA) chapters, PM BA Conference, PMI Global and Region 2, over 20 PMI chapters, local and global Society for Quality (ASQ), International Project Management Assoc. (IPMA) and the PMO Impact Summit.
Sponsored by

Zoom Details
ProjectBites LIVE June 27
Jun 27, 2023 07:00 PM Eastern Time (US and Canada)
Join Zoom Meeting
https://us06web.zoom.us/j/86700464710?pwd=QjJtWjRLL2c2WGkzUVlveHFRMkV4Zz09
Meeting ID: 867 0046 4710
Passcode: Projects
One tap mobile
+13017158592,,86700464710#,,,,*63213093# US (Washington DC)
+13052241968,,86700464710#,,,,*63213093# US
Dial by your location
        +1 301 715 8592 US (Washington DC)
        +1 305 224 1968 US
        +1 309 205 3325 US
        +1 312 626 6799 US (Chicago)
        +1 346 248 7799 US (Houston)
        +1 360 209 5623 US
        +1 386 347 5053 US
        +1 408 638 0968 US (San Jose)
        +1 507 473 4847 US
        +1 564 217 2000 US
        +1 646 876 9923 US (New York)
        +1 646 931 3860 US
        +1 669 444 9171 US
        +1 669 900 6833 US (San Jose)
        +1 689 278 1000 US
        +1 719 359 4580 US
        +1 253 205 0468 US
        +1 253 215 8782 US (Tacoma)
Meeting ID: 867 0046 4710
Passcode: 63213093
Find your local number: https://us06web.zoom.us/u/kcmaXYQqbh
It is not possible to register for this event